Greetings!


It has been an amazing year for the theatre, and thank you for being a part of it!

Our offices are currently closed for the holiday, but the box office will reopen Monday, January 4 at 10am. If you would like to purchase tickets, memberships, or gift certificates, our website is available 24-hours a day, 7-days a week! (Also handy if you want to make any charitable donations before the end of the year.)

Have a very safe and happy new year, and I'll see you at the theatre!

Lisa Condit
Director of Marketing & PR
Ragtime the Musical

January 29-31
Generously sponsored by Worcester State University


Winning Tony Awards for Best Musical, this 13-time Tony Award nominated musical is a timeless celebration of life... what it could and should be.

Get tickets

*Save 30% on 12/30 use promo code THIRTY

Preview the show
---
Classic Albums Live Presents:
Fleetwood Mac - Rumours

January 22

Classic Albums Live has become the ultimate destination for music lovers wanting to hear the greatest albums performed live without all the gimmickry and cheesy impersonations.

Hear this iconic album recreated live on stage, note for note, cut for cut.

*Save 30% on 12/30 use promo code THIRTY

Ragtime
Classic Albums Live
30% off tickets
Upcoming Events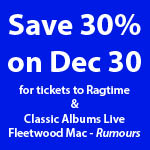 Use promo code THIRTY to save 30% on Dec 30
Available only for:
Classic Albums Live: Fleetwood Mac- Rumours (1/22) &
Ragtime (1/29-31)
Discounts available only on Dec 30
and cannot be applied towards previously purchased tickets.